Facts about the "Dr. Rath's Phytobiologicals" product recall
As you may know, we recently had to recall some production batches of our Phytobiologicals product. This was the first time in our company's more than 20-year history that we had to take such a step.
First of all, we would like to thank you for the great understanding you, our customers, have shown regarding this information. Some of you have contacted us directly to obtain further details, prompted in particular by the extensive media coverage. We would also like to thank you for these calls and emails, as they have helped us to respond as comprehensively as possible to any questions that arose.
With this letter, we would now like to send you a concluding assessment of this incident and to inform you of the steps we have taken as a healthcare company. This letter also expresses our commitment to absolute transparency towards our customers – a prerequisite for trust.
THE FACTS
Ethylene oxide is used in the production of foodstuffs, in particular to protect them from contamination by microorganisms on long transport routes.
In the case of our Phytobiologicals product, the ingredient curcumin was the reason for exceeding the European limit value. The curcuma plant is mainly planted in Asia, from where it is delivered as a basic substance to all parts of the world.
Other basic ingredients such as sesame, spices, dried fruit and locust bean gum were also subject to recalls for exceeding the EU limit value for ethylene oxide.
Even large companies such as Mars (Snickers, Bounty, Twix, M&M) and Lidl were prompted to recall affected products.
The limit values defined for ethylene oxide are very inconsistent around the world. While the limit in Europe is 0.1 mg/kg, it is 7 mg/kg in the USA, i.e., 70 times higher.
The graph below shows you the limit values in the EU (left bar) and the US (right bar), along with the values measured for four batches of the affected Phytobiologicals formulas in between.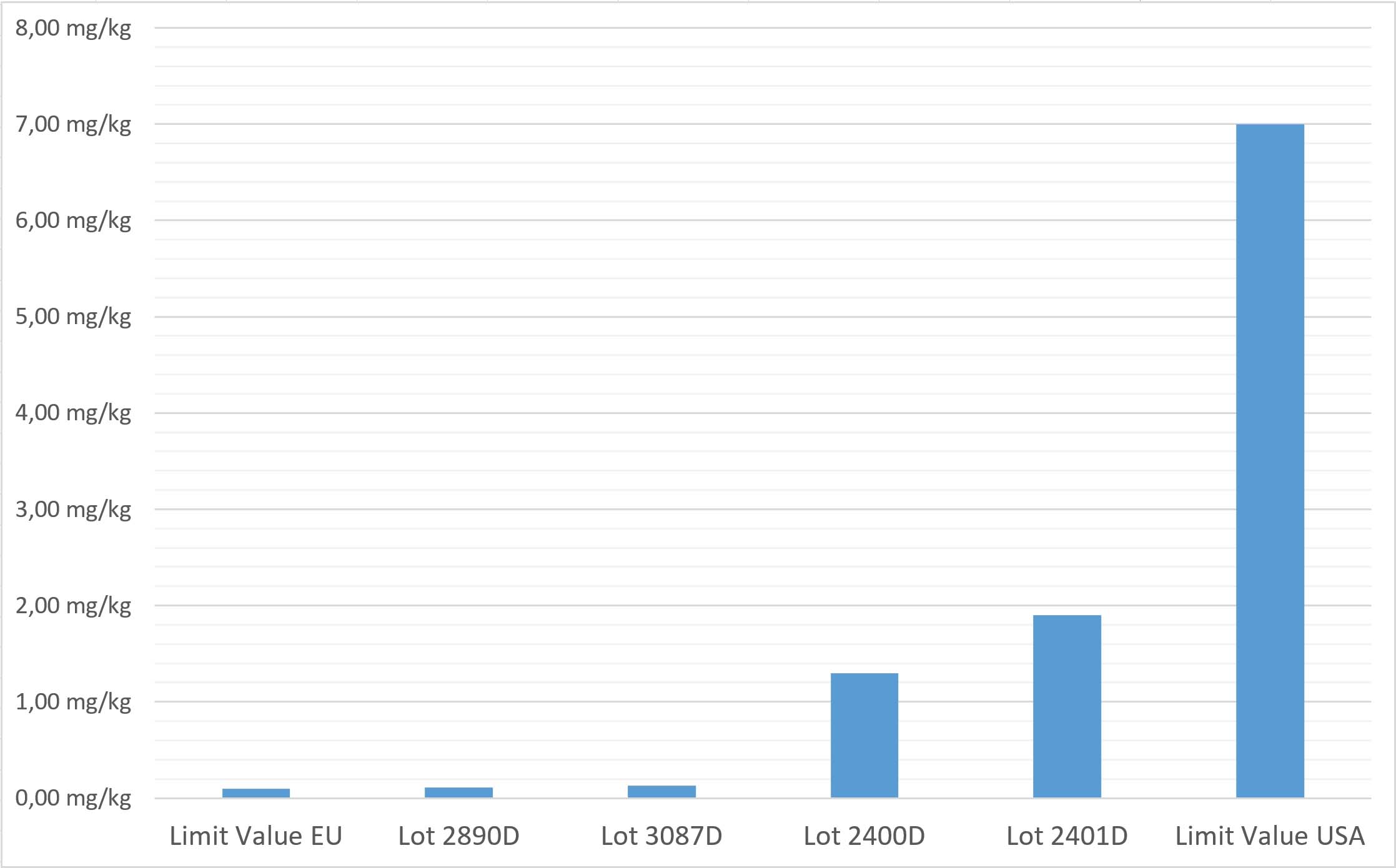 As you can see, two out of four batches have only slightly exceeded the EU limit, and the other two batches are very well below the upper limit that is considered critical in the USA.

By no means does this imply that we want to downplay the health problems potentially associated with ethylene oxide. However, this chart also shows that there is no scientific basis for headlines suggesting an acute cancer threat, as some media outlets have done in recent weeks. If this were true, the US government would deliberately expose more than 300 million US citizens to an acute cancer threat. This, of course, is not the case.

THE REACTION OF THE AUTHORITIES

As required by law, we handed over the names of the customers who had purchased this product from us to the authorities. They contacted the customers randomly to determine whether or not they had been properly informed by us and had received the request to return the product.

This was always the case. We do not know of a single customer who had not received this information from us.

In most countries, the authorities carried out these checks by telephone or email. Even if some customers were surprised by being contacted by the authorities, most of these checks were handled in a professional manner. We would like to thank you for this as well.

OUR MEASURES

Your health is our number one concern. Therefore, we take this incident very seriously and have decided on measures that will most certainly prevent such an incident from happening again. In future productions, we will obtain curcumin only from manufacturers who avoid the use of ethylene oxide – regardless of any concentrations.

Finally, we would like to remind you to return any affected bottles to us and to have them replaced free of charge if you have not already done so.

We want to take this opportunity to thank you once again for the trust you have placed in us over many years.

With kind regards

Nico Molitor
Deputy Executive Officer
Dr. Rath Health Programs